Educational getaways- taking Pilates training in interesting places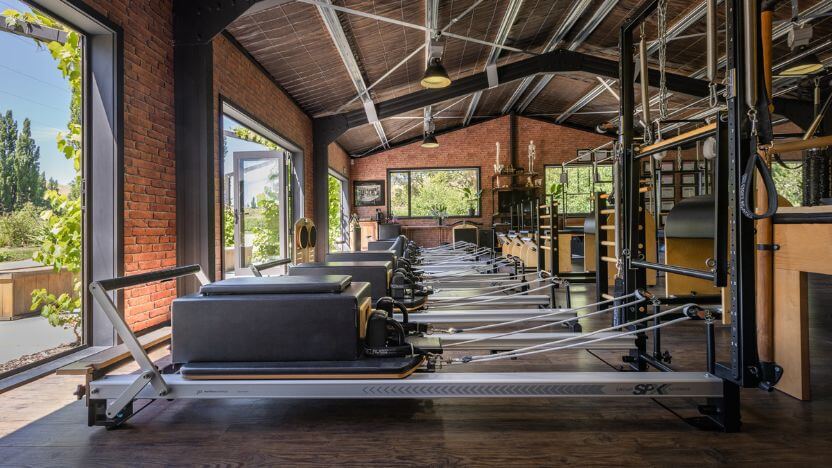 Looking for ways to integrate your travel experiences for educational training purposes?
Being on a learning journey can get overwhelming at times. You might crave a change of scenery or a break, but a lot of times your schedules might not permit it. This is when the concept of an education getaway can help you break the monotony. Whether you love the peace and austerity of snowcapped mountains or sophisticated cities with great food- we have listed different options for you.
1. Be Pilates, New Zealand
Located in the picturesque vineyard of Hawke's Bay region, Be Pilates is a Licensed Training Centre offering Merrithew® education. Flooded with natural light and fresh air, wooden flooring, and ample space, the studio has the perfect countryside feel. One of the reasons why you'll love taking training here is because training courses & workshops are scheduled in the afternoons to allow the mornings off for study or cater to your remote work commitments.
You'll be able to enjoy a work-life balance and make the most out of your spare time exploring restaurants, local boutiques, cafes, beaches, and vineyard tours.
""We found the location, complete with a lovely waterfall and established trees and we purpose-built this Merrithew LTC for students from around New Zealand and overseas to enjoy as a wonderful premium Pilates retreat style experience.
– Sharon Currie, Founder and STOTT PILATES® Certified Instructor Trainer
2. Fluid Motion, Hawaii
World-famous beaches, breathtaking sunsets, outdoor activities, water sports, and great culinary experiences – Maui is known for all the right reasons. Monique Jutila, Founder of Merrithew® Host Training Center, Fluid Motion, feels no differently- "Our studio is in the heart of Kihei directly across from one of the most popular beach destinations on Maui. We have spectacular views of the Ocean, Haleakala, and some of the most amazing sunsets as well as whale breaches during the months of January-March" she says.
Her boutique studio reflects simplicity and laidback vibes- just what you would experience from your staycation at Maui.
""We pride ourselves on delivering excellent STOTT PILATES® education as well as fostering a genuine sense of community amongst our team and clients.
– Monique Jutila, Founder and STOTT PILATES® Certified Trainer
Check out the upcoming courses at Fluid Motion and plan a perfect education getaway in paradise.
3. Qi En Movimiento, Spain
Located in the historical and coastal city of Gijón, in the north of Spain, Qi En Movimiento is a unique space with industrial and modernist-style interiors with commendable attention to detail.
""In "Qi" beyond taking care of the aesthetics of our space and the functionality of our facilities, we strive to offer the most professional and warm treatment to our clients and students. That is the reason why our students and clients define Qi as a cozy and familiar space for them.
– Alejandra Diaz, Founder and STOTT PILATES® Certified Trainer
If you're thinking of an education getaway in Spain, book a spot at their upcoming workshops and get a chance to learn from Merrithew® Master Instructor- Pablo Vera.
4. Sea Breeze, UK
As the name suggests, Sea Breeze is a boutique Reformer Pilates studio located in the heart of St Leonards-on-Sea, East Sussex, England where you'll enjoy your training with the surreal view of the seafront.
When asked what makes the studio special in an interview with Hastings Independent Press, Pete Gibson, who is the co-founder, and owner of Sea Breeze Pilates along with his partner, Lead Instructor Trainer Brigitte Wrenn says, "The machines literally 'reform' your body. The feedback we've had since opening goes along the lines of: "We've been waiting a long time for something like this to open".
Their studio has a warm and welcoming environment and the team believes that everyone can benefit from Pilates. The beautiful light-filled studio has amazing sea views and it has been fully refurbished and kitted out with state-of-the-art Merrithew Pilates equipment.
Have a look at the education workshops Sea Breeze is offering during March 2023, which also happens to be the best time to visit the UK!
Source: https://www.merrithew.com/blog/post/2022-12-21/educational-getaways–taking-pilates-training-in-interesting-places