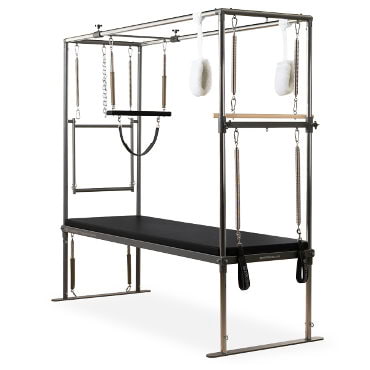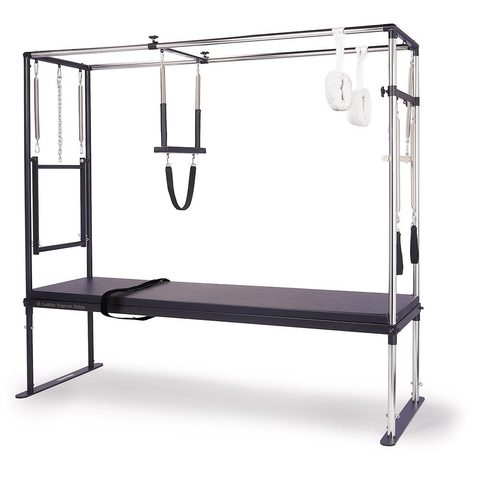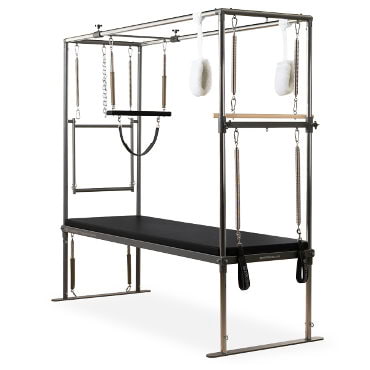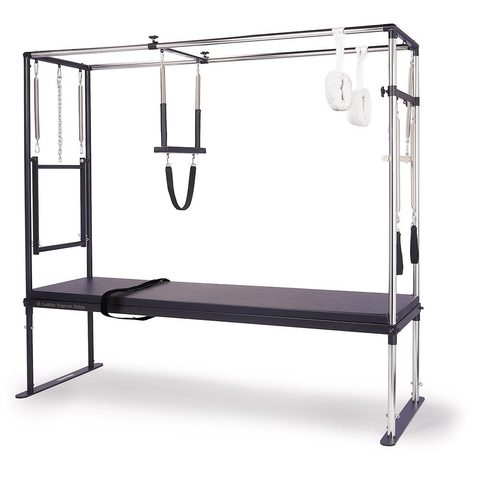 Merrithew Cadillac / Trapeze Table
$10,584.00
A staple of every well-equipped Pilates facility, the Cadillac offers an extensive range of applications for everyone from post-rehab clients to athletes. This ultra-sturdy, versatile unit will add more than 200 exercises to your Pilates repertoire and challenge your clients in different planes of motion. Comes complete as shown with all springs and straps.
Includes Essential Cadillac, 2nd Ed. DVD with 45 exercises
Bed made of dense EVA foam with durable vinyl upholstery
Sturdy construction supports basic movements through to advanced acrobatic manoeuvres
Two sliding bars with multiple spring attachment sites allow for highly variable spring resistance
Multiple spring lengths, tensions and attachment sites offer functional exercises for all levels of ability (Springs are color coded for easy recognition)
Bed height is ideal for exercises in sitting, standing or lying positions
Equipped with 2 light arm springs with foam grip handles, 2 leg springs with padded long spine straps, push-thru bar with 4 springs (2 with protective covering and locking spring clips)
Maple roll-down bar with 2 springs, vertically and horizontally sliding bars with spring attachments, trapeze bar plus 2 springs with protective covering and trapeze strap, support strap, 1 pair fuzzy hanging straps, safety chain with spring clip adjustment
Assembly required
Owner's manual available

Prices are inclusive of delivery & installation.
Additional charges will apply based on the difficulty of access. We will call you after your purchase to determine the additional charges.
This is a standard bundle. Should you require any customisation, kindly click the "Ask Us" button and one of our representatives will be in touch.
If you have any further questions about this equipment, kindly click the 'Red Button' on the bottom right or click the 'Ask Us' button below. One of our representatives will get back to you shortly.
1 in stock
Merrithew February Special: 25% off Cadillac, Chair and Barrels. Promotion ends on 28th February 2023.
Dimensions:
Cadillac (L x W x H) – 226.1cm x 91.4cm x 210.8cm
Bed (H x W) – 64.8cm x 71.1cm
Product Weight: 97.5kg
Max User Weight: 159kg
Max User Weight (When hanging from the horizontals): 90kg
DELIVERY OF FITNESS ACCESSORIES:
Our delivery fees are calculated according to the weight of your order. Your pilates reformer product will be delivered within 5 working days or earlier (excluding Saturday, Sunday & public holidays). You may also opt for a self-pickup at checkout.
Orders under 20kg (0.1kg – 19kg): $10
Orders under 30kg (20 – 29kg): $20
Orders above 30kg: $30
If you are purchasing a product that is on backorder, kindly drop us an email (enquiries@f1-recreation.com.sg) to check on the delivery status.
If you opt for a self-pickup, kindly visit our showroom @ 20 Sin Ming Lane #01-57, Midview City S(573968) on Mon – Fri (2 pm to 5 pm).
DELIVERY OF FITNESS EQUIPMENT:
Prices are inclusive of delivery & installation (not for leasing or rental of equipment).
Additional charges will apply based on the difficulty of access. You can select these charges when you are at the checkout page.
Once your order is successful, our team will be in touch to coordinate the delivery of your equipment.