What are the top three tips for conducting a successful group Pilates session?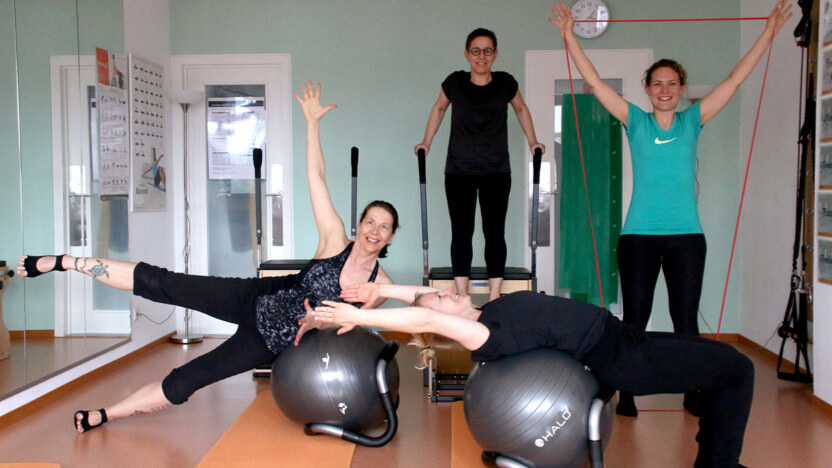 "Alone we can do so little; together we can do so much." – Helen Keller
Group workouts and Pilates sessions continue to rise in popularity for all the right reasons. It is a great way to attract more clients and form a loyal client base. Group workout sessions make it easier for fitness enthusiasts to stay connected with like-minded people from the community, thereby improving motivation.
Petra Weitzel, the founder, and owner of Pewe Sports – Pilates Zentrum, a Merrithew® Host Training Center in Germany, shares some integral tips to keep in mind before organizing a group Pilates session and training more than one person at a time.
Make sure everyone is on the same page
"Group Pilates sessions are all about coordination and sync. It is crucial to ensure that everyone you're training in the group session is at the same fitness level. It can become difficult to train a group if one person has back pain or shoulder pain." says Petra Weitzel, STOTT PILATES® Certified Group Matwork Specialist. "I recommend knowing everyone's preferences and physical conditions beforehand and then grouping them together."
Cultivate a warm and welcoming atmosphere
"Your studio space will set the pace of the workout and it plays a huge role in how your clients feel during the session. The secret to a productive workout session is lots of fresh air coming through, the room temperature should be just right, and lots of natural light. Organize any Pilates equipment you will use during the class such as the Stability Ball™ or Fitness Circle® to ensure there is no clutter. Your clients will love this!"
Use proper cueing
"I cannot stress enough how important cueing is, especially when you are training more than one person. This helps you structure the class by guiding everyone to ensure group coordination and improving your client's awareness of their body position."
We also asked her to shed light on one of the most common questions people ask, 'how long until we see results from Pilates?'
"Honestly, it is very different from person to person. It also depends on your motivation and goals. Are you motivated enough to do Pilates every day? Or are you someone who prefers doing it just once a week? Are you willing you challenge yourself with new exercises? All these factors play a huge role in your progress." she said "As Joseph Pilates said, you will feel better in ten sessions, look better in twenty sessions, and have a completely new body in thirty sessions."
Source: https://www.merrithew.com/blog/post/2023-02-09/what-are-the-top-three-tips-for-conducting-a-successful-group-pilates-session