How this Pilates Instructor Started a Boutique Reformer Pilates Studio in the Netherlands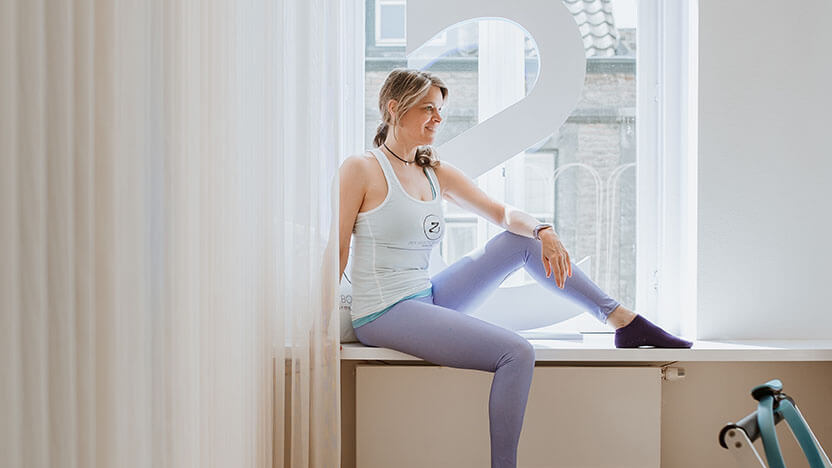 After finishing a personal training course at the YMCA and a ZUMBA® certification in London in 2015, Petra Bekkerin, a former lawyer, knew this was just the beginning of her fitness education — and an entirely new career.
"I was interested in expanding my knowledge and understanding of anatomy and biomechanics even more, so I could feel truly confident training people safely and effectively. That's what made me decide to add Pilates to my repertoire," she says
She chose Merrithew™'s STOTT PILATES® Matwork course because of its reputation for thorough and in-depth education and training. While doing the course, she tried a Reformer Pilates class and was instantly hooked.
"I just knew I wanted to work with this magic Pilates machine," she says. "The whole idea of mindful movement— of finding the perfect balance between mind and body, of using the breath and slow, intentional movements— really appealed to me."
After completing her Reformer certification, Petra invested in two Merrithew Reformers and set up a small studio in a London basement in 2016, collaborating with a physiotherapist and a podiatrist as referral partners.
"If I got clients with specific injuries, I would refer them to the physiotherapist first to make sure I could train them safely and effectively. Once the clients were done with their physical therapy exercises, she would refer them to me.
"I also worked with a podiatrist as Reformer Pilates can help a lot with feet/ankle work and hypermobility. If I got a client with, for example, a lot of pronation and complaining about knee pain when they were running, I would refer them to the podiatrist to find a solution. It was a perfect collaboration and was much more common in the U.K. than in the Netherlands where these professionals tend to work together and understand the benefits of Reformer Pilates."
While running her London studio, Petra mainly trained private clients on the Reformer, ranging from teenagers to active seniors.
"I was so fascinated by the effectiveness of the Pilates Reformer for all these age groups and their related issues and the way I could help people that I decided to grow my studio once we returned to the Netherlands."
In May 2021, Petra opened ZES Boutique Reformer Pilates Studio in Maastricht, a charming medieval city in the Southern Netherlands on the border with Belgium. She outfitted the studio with six Merrithew SPX® Max Reformers customized in an eye-catching adobe white upholstery to match her studio aesthetic and branding.
"Compared to other companies' Reformers, Merrithew's Pilates Reformers have always felt like the 'Rolls Royce' of Pilates equipment. They're sturdy, high-quality, have strong springs, soft and thick ropes, and comfortable padding. For boutique studio owners, it's convenient that you can buy Merrithew Reformers in a bundle with all the necessary accessories too, including the Reformer Box, Padded Platform Extender and Maple Roll-Up Pole.
"I chose the SPX Max Reformer because it's not too high off the ground, which makes people feel safe enough while standing on the carriage and while doing exercises elevated on the Reformer Box."
While ZES Boutique Reformer Pilates Studio is just a one-woman operation, Petra offers private and duet sessions, and group classes for up to six participants on a daily basis.
"I enjoy teaching so much— sharing my love for Reformer Pilates and the energy that comes with it."
Tips on starting and growing a boutique Reformer Pilates studio business
Attracting new clients to your studio:Petra marketed her boutique studio through a popular local magazine and vlog. "That worked out really well and was definitely worth the investment," she says. "On top of that, the fact that Maastricht is a relatively small town makes 'word of mouth' publicity easier."Social media is enormous as well. With celebrities doing Reformer Pilates and showing that on Instagram, it attracts a lot of younger people to a Reformer Pilates studio like mine."
Biggest challenges/lessons as a new studio owner:One of the biggest challenges Petra has encountered as an instructor is managing participants' different skill levels in group classes. "Some people need more attention to get the exercise and technique right. I had to learn how to divide my attention and keep everyone going," she says."Another challenge is getting them to breathe! Somehow people feel embarrassed to apply the Pilates breathing technique. I have to remind them that their breath will help them execute the exercises more effectively and deepen their core connection. I've also noticed that participants who are generally 'gym goers' move too fast and use a lot of momentum. Teaching them to slow down can be challenging too."
""The lesson I've learned from being a new studio owner is that sometimes saying 'no' to a client is saying 'yes' to yourself.
Differentiating your Reformer Pilates studio from the competition:"In London, I discovered that my clients really liked specific music, the smell of diffusers with essential oils, and the relaxation of dimmed lights at the end of the session. I translated that into an even more immersive experience at ZES Boutique Reformer Pilates Studio that engages all of their senses."Research has proven that by using all the senses, people tend to make the mind-body connection much faster, which is what we want when practicing Pilates. I try to make exercising and going to the studio something people look forward to doing and not a chore."
View this post on Instagram
Source: https://www.merrithew.com/blog/post/2021-11-08/how-this-pilates-instructor-started-a-boutique-reformer-pilates-studio-in-the-netherlands