Tips for sprucing up and bringing joy to your home gym or workout space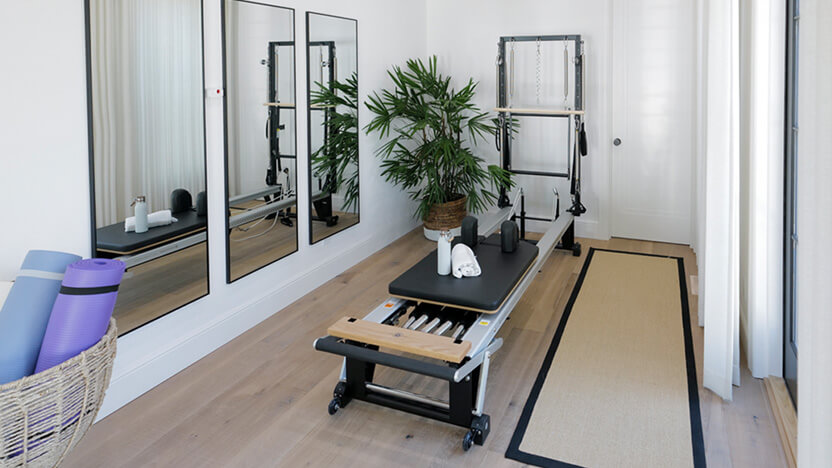 If you're spending more time working out at home these days— and maybe enjoying it more than you thought— now might be the best time to invest in or spruce up your home gym or workout space to make it somewhere you really look forward to being every day.
A few simple changes, like a fresh coat of paint, putting up some art, adding brighter lights, buying a few plants (even if they're fake), and installing a mirror or two, will go a long way to making it feel more welcoming and enticing. Why not bring some joy to your exercise routine?
If you have the budget, consider adding a few new props or a piece of Pilates equipment to keep you focused on your fitness goals.
So where should you start in remaking, remodeling or just freshening up your home workout space?
1. Let's begin with some #HomeGym inspiration
Who wouldn't want their own 'wellness wing'? In a recent episode of the Property Brothers' home renovation show, Brother vs. Brother, Drew Scott was tasked with renovating a 100-year-old house in Los Angeles, California, where people "can't live without our… Reformers," as the show's guest host remarked.
The before and after shots of the space are astonishing. From a shabby wood-paneled room with cheap linoleum flooring and a low ceiling, to a bright and airy exercise room, decked out with a Merrithew™ V2 Max Plus™ Reformer, a mirrored wall and full-length windows, it really brings the studio experience home.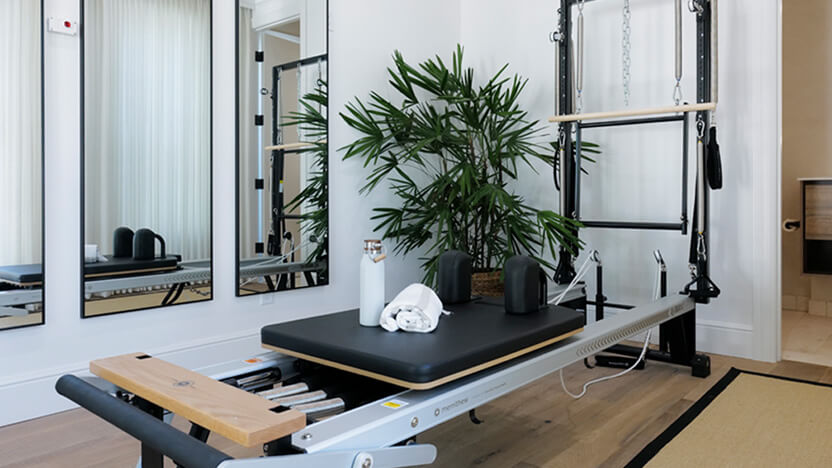 So while we all dream of one day having a home gym like this, here are a few simple hacks you can do right now to freshen up your workout space.
2. Consider your exercise needs and wants
The type of exercise you do and the equipment you'll need
How much space and storage you have available
If you'll be moving equipment around or leaving it in place
What décor aspects you like about the studios you visit
3. Expand your horizons with new fitness accessories or equipment
Versatile accessories for small spaces
As Pilates professionals and enthusiasts, we all know that any great workout begins with a high-quality mat, so choose one you really like and that gets you excited to work out.
If you have a designated at-home workout space, you might want to go with the ultra-comfortable and luxuriously thick Eco-Lux™ Imprint Mat or Eco-Lux™ Imprint Mat Pro, so you can leave it in place.
If you want a statement mat that will make you smile— and brighten up your environment— check out our colorful series of Pilates and yoga mats, like this whimsical pineapple design or decorative elephant.
Once you have your mat, then you can start branching out. If you've been doing mat-based workouts for a while now, maybe it's time to expand your collection of props and small equipment, adding instability, resistance, weight, agility challenges or athletic conditioning to keep your at-home workout routine fresh.
Equipment for workout rooms and home gyms
If you have a designated workout area, you might want to invest in a high-quality and long-lasting piece of equipment, such as a Reformer. Merrithew's At Home SPX® Reformer, which comes 90% assembled, is a popular choice for personal use, as is the SPX® Max Reformer, which can be stored upright with the Vertical Stand.
If you have a limited amount of space, but you want to step-up your workout, try a Split-Pedal Stability Chair™ or a Ladder Barrel, both of which are compact, versatile and provide multiple exercise options.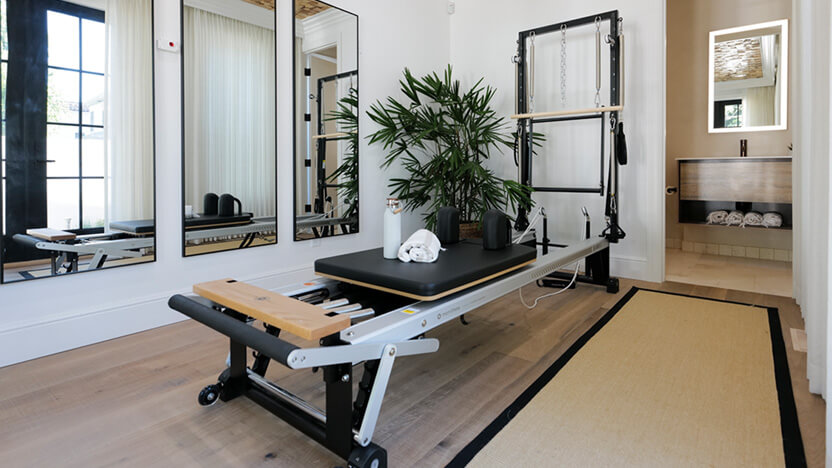 4. Plan your space
Merrithew's 3D and 2D Studio Planner tools aren't just for professional studio owners. You can use them to visualize, customize and optimize your home gym space too, so you know exactly what fits where and how it will look before you invest.
5. Make the most of your new home gym
Once everything is said and done, make sure you put your new space to use. We've got tons of exercise ideas and workout tips on the blog, or browse our streaming platform Merrithew Connect™ to bring the latest and greatest Pilates and mind-body workouts into the comfort of your new home gym!
Source: https://www.merrithew.com/blog/post/2020-11-10/tips-for-sprucing-up-and-bringing-joy-to-your-home-gym-or-workout-space