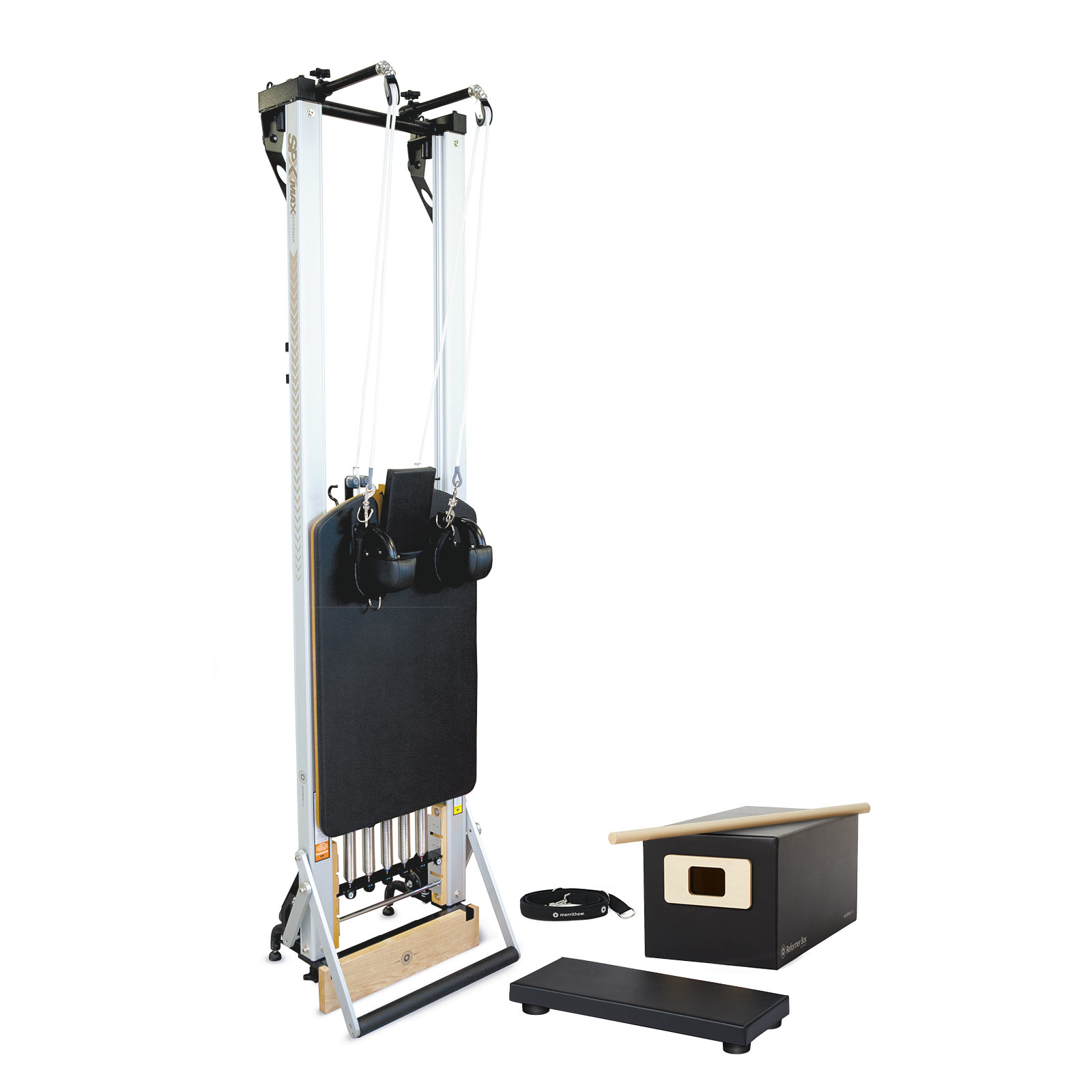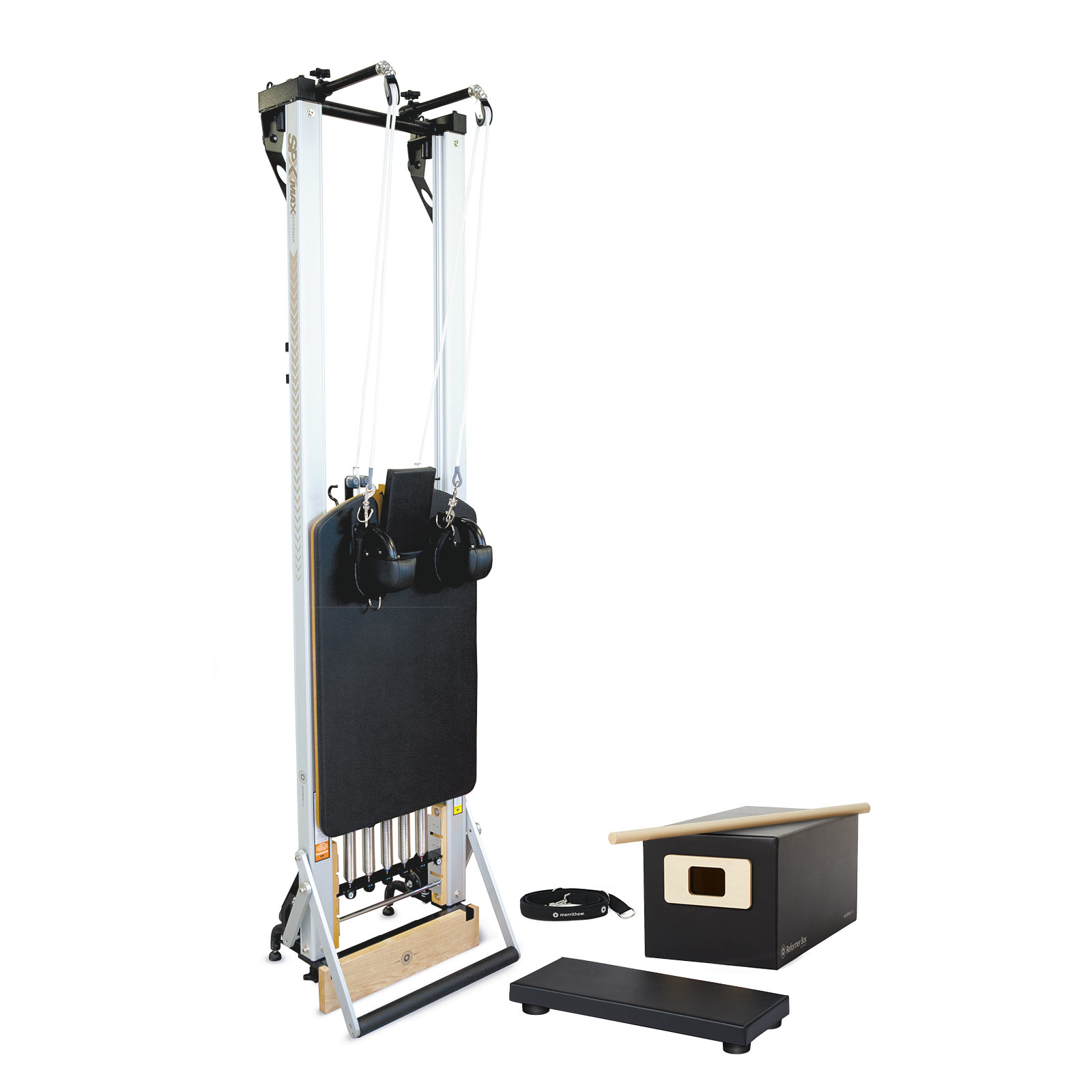 Merrithew SPX® Max Reformer with Vertical Stand & Tall Box Bundle
$8,748.00
The latest space saving innovation from Merrithew™, this professional-use Pilates Reformer allows you to make the most of limited space without sacrificing performance! Fully-loaded with all the commercial features, the SPX® Max with Vertical Stand stores upright and is perfect for your small studio, gym or fitness facility where space is a premium. Built with superior craftsmanship, this Reformer can accommodate a range of exercise-expanding accessories like the Vertical Frame or Cardio-Tramp®. This specially-priced bundle includes a Tall Reformer Box for optimal exercise execution!
This equipment has a patented retractable rope system with recoiling rope reels for easy adjustments. The longer the ropes added it will increase the range of motion and fluidity to exercises – allowing for more programming options. The carriage glides over a sleek C-channel aluminium rails, using a patented rolling mechanism for a smooth, friction-free ride. Besides that an enhanced springs are built to withstand vigorous use with Jumpboards, Cardio-Tramp® Rebounders and other Reformer accessories and secure quickly and safely.
With a new comfort footbar, it makes it easier for you who has sensitive feet and hands. The easy-roll wheels make it a breeze as well to move or reposition. This equipment only required minimal assembly.
Now with Tall Box
Expand your programming options further with the Reformer Tall box! The extra 4 in (10 cm) height ensures you have the necessary floor clearance to perform the complete Pilates Reformer repertoire on your SPX Max Reformer! For everything from lying prone for arms pulling straps to four-point kneeling for feet pulling straps, the Tall Box adds versatility while accommodating more clients.
Deluxe grommet mats includes
Tall Reformer Box with foot-strap
Padded Platform Extender
Maple Roll-Up Pole
High Precision Springs Package – 5 Reformer Springs (3 × 100%, 1 × 50%, 1 × 25%)
5 neoprene spring covers for noise reduction
Soft Reformer loops
Patented Retractable Rope System – makes changing rope lengths a breeze!
Carriage Stopper
Easy-roll wheels on both ends of the Reformer
10 standard and 75 custom upholstery colour choices. Please specify your selection upon checkout.
Owner's manual available
All the bells and whistles: Your SPX Max with Vertical Stand comes complete with
Enhanced springs to withstand continuous, high-intensity use
Durable vinyl upholstery available in 10 standard colors at no additional cost
Sleek aluminum rails and neoprene spring covers ensure a quiet ride
Customizable user settings with 3 Gearbar, 6 carriage-stopping, 3 headrest and 4 footbar positions
Retractable rope system for easy adjustments
Bundle also includes:
Tall Reformer Box with footstrap
Padded Platform Extender
Maple Roll-Up Pole
Prices are inclusive of delivery & installation.
Additional charges will apply based on the difficulty of access. We will call you after your purchase to determine the additional charges.
This is a standard bundle. Should you require any customisation, kindly click the "Ask Us" button and one of our representatives will be in touch.
If you have any further questions about this equipment, kindly click the 'Red Button' on the bottom right or click the 'Ask Us' button below. One of our representatives will get back to you shortly.
1 in stock
Very Merry Christmas Sale: 10% off Merrithew products. Get an additional $1000 cash discount with a min spend of $8,000. Promotion ends on 27th December 2023.
Carriage Dimensions (W x L x Height from floor): 56cm x 98cm x 23cm
Reformer Dimensions (W x L): 56cm x 248cm
Reformer Weight: 58kg
Weight Capacity: 159kg
Material: high-intensity studio use with durable vinyl upholstery and dense EVA foam
Spring: High Precision Springs Package – 5 Reformer Springs (3 × 100%, 1 × 50%, 1 × 25%)
DELIVERY OF FITNESS ACCESSORIES:
Our delivery fees are calculated according to the weight of your order. Your order will be delivered within 5 working days or earlier (excluding Saturday, Sunday & public holidays). You may also opt for a self-pickup at checkout.
Orders under 20kg (0.1kg – 19kg): $10
Orders under 30kg (20 – 29kg): $20
Orders above 30kg: $30
If you are purchasing a product that is on backorder, kindly drop us an email (enquiries@f1-recreation.com.sg) to check on the delivery status.
If you opt for a self-pickup, kindly visit our showroom @ 20 Sin Ming Lane #01-57, Midview City S(573968) on Mon – Fri (2 pm to 5 pm).
DELIVERY OF FITNESS EQUIPMENT:
Prices are inclusive of delivery & installation (not for leasing or rental of equipment).
Additional charges will apply based on the difficulty of access. You can select these charges when you are at the checkout page.
Once your order is successful, our team will be in touch to coordinate the delivery of your equipment.