Merrithew Reformers receive special certification from EU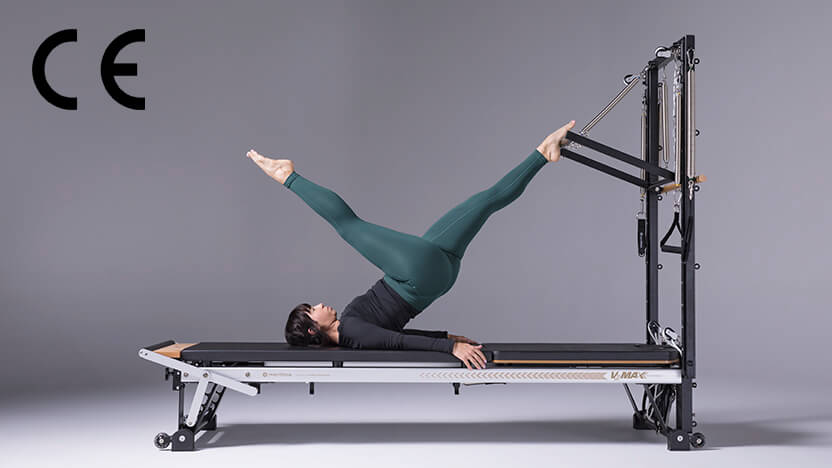 Last month, Merrithew™ received a special certification from the European Union to officially recognize three of the company's Reformers as medical equipment.
The company's SPX® Max Plus, V2 Max™ Plus and Rehab V2 Max™ Plus Reformers have all acquired a CE Marking, verifying the equipment's status as a Class I Medical Device across most of the EU. This means all three pieces of equipment can be formally used in hospitals and health care settings by medical professionals.
When those in the fitness community speak of their progress (or that of their clients), it's not uncommon to hear them refer to it as a journey. It makes sense: When someone effectively commits to exercise and improving their mind-body connection, it usually represents a change of direction, and it inevitably involves setting a goal, or having a destination in mind.
For Pilates, this journey often begins at a low point. In speaking with studio owners and instructors around the world for Merrithew's recurring Studio Spotlight features, there is a commonality to their otherwise unique journeys: Many are introduced to Pilates as a means of recuperating from an injury.
It's a testament to the practice of mind-body exercise that this is such a widely shared origin story in the industry. It means it's not just hyperbole to say that Pilates is life-altering.
But while the rehabilitative properties of Pilates have been known for decades by those in the community, it's only recently that it's been recognized by government regulators and health authorities as a means to improving the quality of life for those suffering from physical ailments.
Official recognition is vital to ensuring Pilates, in general, and Merrithew equipment, specifically, can be used by doctors, sports medicine professionals, physiotherapists, physical therapists, chiropractors and osteopaths to treat their patients.
That's why news that Merrithew's SPX Max Plus, V2 Max Plus and Rehab V2 Max Plus Reformers have been approved under the European Medical Devices Regulation MDR 2017/745 is so important to the company.
Not only does it mean more people will be able to improve their health with the equipment Merrithew designs and manufactures, the certification also acts of evidence of the equipment's quality, reliability and safety.
Acquiring CE Marking also represents Merrithew's ongoing investment in the European market. In addition to growing a community of education partners and STOTT PILATES® Certified Instructors across the continent, Merrithew recently opened its European distribution center to offer direct access to its equipment.
As a result of this initiative, consumers in the region receive faster shipping on new equipment and better pricing with no importation tax.
Just as we might use the term "journey" to describe the distance between where we've come and where we are regarding fitness or Pilates, we can also use it to describe Merrithew's progress as a company. The CE Marking is the most recent step forward on a path that began more than 30 years ago, when co-founders Lindsay and Moira Merrithew opened a small Pilates studio in Toronto, Canada.
Not only will Merrithew equipment and programming continue to help people of all fitness levels, just as Lindsay and Moira intended back then, it's going to be used to help start many more journeys too, thanks to this most recent development.
Source: https://www.merrithew.com/blog/post/2022-04-08/merrithew-reformers-receive-special-certification-from-eu?utm_source=Mailchimp&utm_campaign=d088ee23db-NL_202204&utm_medium=email&utm_term=0_0cd2a6749f-d088ee23db-182743006&ct=t(NL_202204)&goal=0_0cd2a6749f-d088ee23db-182743006&mc_cid=d088ee23db&mc_eid=0c09e032cf