Here is why STOTT PILATES® Instructor Hilal Leigh loves the Merrithew® Mindful Movement Symposium and you will too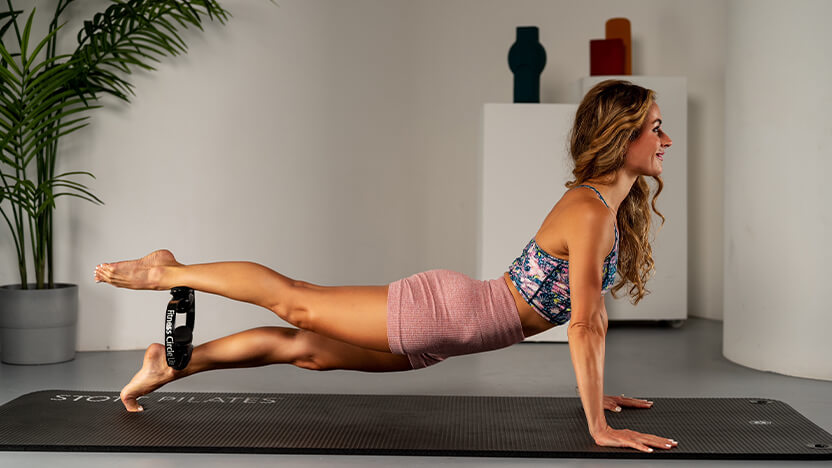 There is something about being in a room full of people who share the same passion and mindset as you. This is the exact feeling the Merrithew® Mindful Movement Symposium embodies for all Pilates and fitness enthusiasts.
Happening in London from the 17th to the 20th of November, the four-day event will explore new Pilates trends and allow participants the opportunity to make connections and participate in workshops with experts to help them advance their career goals and deepen their knowledge about mindful movement exercise.
We asked Hilal Leigh, STOTT PILATES® Certified Instructor, to talk about the Symposium, what professionals and fitness enthusiasts can expect, and what makes the event stand out from the rest of the fitness events.
Hilal's story
After suffering from a major neck injury, Hilal discovered the therapeutic benefits of Pilates as mindful movement helped her recover. She fell in love with the healing power of Pilates, and how it helped her regain mobility and strength. Her burning passion for Pilates encouraged her to give up her corporate job and turn that passion into her profession.
Hilal is now the founder of her own Pilates Studio, JustStretch where she enjoys spreading the joy of mindful movement by helping people get closer to their fitness goals and become the best versions of themselves.
1. For those who don't know you, can you tell us a little about your work in the fitness industry?
"I'm a STOTT PILATES Certified Instructor and I've worked in various Pilates and fitness studios in the UK, teaching a variety of Pilates Mat, Reformer, and Barre classes. I also founded my own business JustStretch not long after my qualification," says Hilal.
When asked how she stays motivated to keep learning new skills and stay on top of the latest Pilates education, she answers "Thanks to Merrithew's approach to continuing education, every year I've added new skills and qualifications; from ZEN•GA® to STOTT PILATES and from specific knee and shoulder complex training to pre and post-natal Pilates, I've increased my knowledge and skills in the area."
2. You've attended previous Symposiums too, what do you love the most about these events?
"For me, Symposiums are totally different from any other training I do, they have this unique and absolutely magical vibe that brings all the like-minded instructors together. "says Hilal. Shedding some light on the vibe of the event, Hilal says "Everyone is there willing to learn, to grow and to add something new to themselves and the Master Instructor Trainers we learn from are the best in the field, so what is not to love!"
3. What do you think sets your Symposium apart from other conferences in this field?
"The UK Symposium is always packed with a great variety of courses such as the Merrithew Fascial Movement Foundation Course, ZEN•GA Athletic Conditioning, and many more. Any Instructor can find something for themselves whether it is a new course or a workshop that can bring them closer to their goal of completing a Specialty Track. And they can be taught by presenters who are highly sought after and internationally recognized in the Pilates industry. Long story short, the Symposium makes learning new skills even more fun!" says Hilal.
4. For Pilates professionals, what are the key takeaways that they can expect from attending the Symposium?
"Attending the workshops presented by Master Instructor Trainers who are the best in their area will highly benefit any Pilates professional. Attending the Symposium will benefit an Instructor beyond gaining CECs, they can complete a Specialty Track and become a Merrithew Specialist in the field of their choice" says Hilal
"They can better serve their clients with new skills or expand their clientele. For example, an Instructor who always wanted to train athletes can find amazing athletic conditioning workshops."
Keeping up with the evolving times
"When I look back on how I started teaching a decade ago, my teaching evolved so much with the skills I gained from attending the Symposium and taking the workshops," says Hilal.
She also talks about how trainers feel overwhelmed and the pressure to learn everything as quickly as possible. "Everyone learns at their own pace and we don't need to change everything overnight, I always practiced and implemented my new skills in chunks, every time I taught a class, I included another section from what I learned, and over weeks and months, these new skills just settled with me seamlessly."
5. For fitness enthusiasts, why should they attend the Symposium?
"Be it beginners or intermediate, fitness and Pilates enthusiasts regardless of their fitness level can benefit hugely from the Symposium. I have clients who are not interested in teaching others, hence they don't want to become a professional or certified instructor yet are keen on deepening their knowledge," answers Hilal.
Talking more about the benefits of attending the Symposium, Hilal says "A lot of my clients are into fitness and always want to stay abreast of what is happening in the Pilates and fitness industry. With these workshops, they can not only meet like-minded people but they can also improve their own technique and discover a lot about their bodies, and also understand more technical aspects of how and why we are doing a specific exercise."
Source: https://www.merrithew.com/blog/post/2022-11-14/here-is-why-stott-pilates-instructor-hilal-leigh-loves-the-merrithew-mindful-movement-symposium-and-you-will-too