Beautiful studios in a small space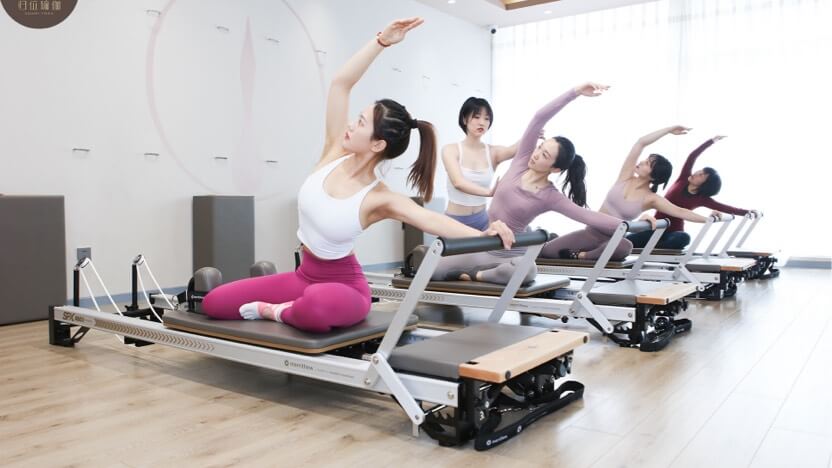 In this edition of the beautiful studios around the world series, we will explore studios that have flourished in limited spaces. These studios from the Merrithew® global community offer an appeal to those looking for a compact yet beautifully designed workout spaces. Their attention to detail and compact space means no distractions during the workout, making it all about shifting focus onto the mindful movement practice.
1. Guiwei Yoga, China
For founders Tang Meihua and Tang Meiyan, Pilates and Yoga are not just daily practices, but a way of life. They launched their Pilates studio with the aim to become a platform for the homing of the body and mind of Chinese people around the world.
"To achieve the unity of body and mind, the unity of action and soul, and return to the beginning, so as to achieve the quality and happy life that everyone yearns for," says Tang Meihua.
The one-of-a-kind philosophy, Guiwei Yoga is a Merrithew Host Training Center offering a unique unique experience to its clients. Guiwei Yoga has many classes to suit people's needs at any stage in life. The studio offers clean aesthetics and a warm setting that promotes a feeling of peace within yourself while preparing you to undertake new adventures that wait in the outer world.
2. Natural Pilates, California
Situated across from the luxurious Peninsula Hotel, Natural Pilates caters to a varied clientele. It is a premier Pilates company with three studios in Los Angeles, an on-demand subscription platform, teacher training programs, accredited workshops, and a line of exercise props. Laura Wilson, the founder of Natural Pilates first opened a 700-square-foot studio in Beverly Hills in 2005 with two V2 Max™ Reformers and a massage table. Fast forward to 16 years in the Pilates business, she now has multiple branches in Brentwood, Century City, Bel Air, and West Hollywood.
""I love Pilates because it's a challenging workout that pushes people out of their comfort zone. Our mission is to help our clients increase their body awareness, understand their physical abilities and reach their maximum potential.
– Laura Wilson, Founder of Natural Pilates
3. PILATES BOUTIQUE, Vienna
Referred to as 'playroom' by founder Sara Kuzel and her team, the PILATES BOUTIQUE is an aesthetically pleasing, fine boutique studio in the 'city of music' Vienna. Sara is a dancer, Pilates, Barre, and Aerial Yoga trainer with over 15 years of international experience. With wooden floors, minimalist bohemian-style decor, and clean white curtains, this place is a haven for fitness enthusiasts.
You'll enjoy working out as natural light floods through the curtains, fostering a warm and bright environment that is perfect for mind-body practice. The studio is well known in the local Pilates community as an escape that offers a very pleasant and friendly atmosphere.
4. SPACE, Oslo
Located in the beautiful city of Oslo, known for its green spaces and museums, you'll find SPACE in two areas – Frogner and Skøyen. SPACE is a Merrithew Host Training Center, owned by two London-based Pilates enthusiasts – Aislinn Jensen and Kristina Cavanna. Their studio is the true definition of simplicity at its best and resonates with the vibe of Oslo city itself which boasts modern design and architecture. With taupe wooden flooring and complementing white walls, their studio is like a breath of fresh air. The team at SPACE Pilates is passionate about delivering the highest quality instruction. They believe in working continuously to increase their knowledge in order to challenge their clients & modify in new ways.
""We're proud to partner with the world-class Merrithew to deliver their globally acclaimed STOTT PILATES® education method for aspiring & certified instructors across Norway, Sweden, Denmark & Finland.
5. ZES Boutique Studio, Maastricht
This posh-looking studio is located in Maastricht, the Netherlands at the Brusselsestraat 74 on the first floor. As soon as you enter the studio space, you'll feel the essence of wellness and luxury this space offers. The mirrors paired with LED accents definitely steal the show. Petra Bekkerin, the founder of ZES Boutique Studio customized the studio equipped with 6 SPX® Reformers in an eye-catching adobe white upholstery to match her studio aesthetic and branding.
""I just knew I wanted to work with this magic Pilates machine," she says. "The whole idea of mindful movement — of finding the perfect balance between mind and body, of using the breath and slow, intentional movements — really appealed to me.
– Petra Bekkerin, founder of ZES Boutique Studio
Source: https://www.merrithew.com/blog/post/2022-11-24/beautiful-studios-in-a-small-space