A portrait of bravery and inspiration, the story of IK Pilates Studio, Ukraine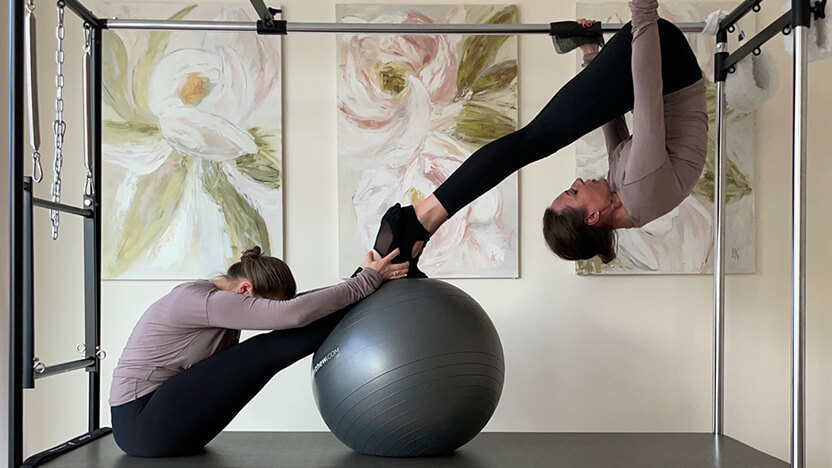 While establishing IK Pilates in 2018 – Irina Karnaukh had one goal, to create the most comfortable conditions for people who came to her studio. She poured her heart and soul into the studio and its values exude the same.
Located in the heart of the beautiful Kharkiv city, the studio is simple yet very well-equipped. You'll fall in love as soon as you walk in. The warm wooden flooring, pastel floral paintings, clean aesthetics, and of course, the smiling faces of the IK Pilates team are what make this studio one of a kind.
Despite the war tension in Ukraine, Irina and her team are going strong and training everyone who walks into their studio without second thoughts. Passion? Dedication? Love? What keeps the IK Pilates team glued together and keeps their spirit alive without surrendering to the adversity of the situation? We had the honor of interviewing the studio owner Irina Karnaukh where she shares the inspiring story of IK Pilates.
Can you provide some backstory on IK Pilates Studio's inception and goals?
"IK Pilates Studio is born out of love. Love not just for sports, for movement, but love for people, the desire to help and bring light and goodness. It's more than a studio, it's our family." says Irina.
"I wanted the studio to be a place where people can come and unwind themselves through mindful movement. This studio is where people can forget everything else and just exist in this little world that we've created. I've worked hard to achieve where we are today. I stay on top of the latest Pilates education and training to make sure my clients experience the best." says Irina.
Tell us more about your location and what makes the studio in Kharkiv, Ukraine special.
"The studio is definitely exceptional. How do we know this you may ask? It is because our clients tell us how they feel when they work out here. Hearing them describe how much they love this place is one of our greatest joys and strengths." explains Irina. "Our team is not just driven by a professional motive, there is a genuine desire to help people feel better and stronger and we're proud of that"
How has your team of instructors coped with the adversity of the given circumstances?
"In February 2022, when the war began in Ukraine, many people left the city which is just 30 km away from the border with Russia. But many people stayed in the city, including some instructors and clients."
"Anna, Mariya, Pilates trainers, and massage therapist Ekaterina stayed in the city to help and support people, and later even had Pilates sessions for our clients who also decided to stay. This made me realize how lucky I am to be able to work with a team that is so passionate about what they do."
"One thing we all know for sure is that together, with each other's support we can take it one day at a time and not get lost in this whirlwind of violent events." Irina mentions that they all try to stay in touch as much as possible, both among themselves and their clients which keeps them all motivated.
What do you think are the driving factors that motivate the instructors and clients to show up despite the challenges?
"The desire to live a healthy life and feel alive is why people show up at our studio every day. A lot has changed for us within just one year. We have come to the point where our studio is not just about making money and profit, it is a haven for people to take a break from the chaos and just focus on movement, and enjoy the peace, even if it is just for a while" says Irina.
What would you say is the most important thing that has glued everyone together through these tough times?
"The tough times are like a filter. What truly matters to us retains, everything that is unnecessary passes through. These times made us realize what truly matters to us, and that is support from one another. Together we are strong and able to achieve wonderful things. Knowing that you are not alone and there are people nearby who can resonate with your pain makes you feel like you all belong together. That feeling is unmatched"
Lastly, is there a message you would like to share with the world, specifically with the Pilates community?
"We would like people to never lose the essence of the very emotions that make us all humans- sensitivity, empathy, and caution towards each other. One more thing I'd like to add is that we all need to make the most out of the present moment because the future is uncertain. You have to appreciate what you have and strive to bring goodness to the world." says Irina. "Appreciate your loved ones and always remember, there is nothing more important than a healthy body "
It isn't every day that we come across studios like IK Pilates. It gives us immense joy to see their undying spirit and passion for Pilates. Thank you IK Pilates, for being a source of inspiration to the entire Pilates community. We wish Irina and her team all the best.
Source: https://www.merrithew.com/blog/post/2023-02-17/a-portrait-of-bravery-and-inspiration-the-story-of-ik-pilates-studio-ukraine