Certification crucial to success of Merrithew's first studio in China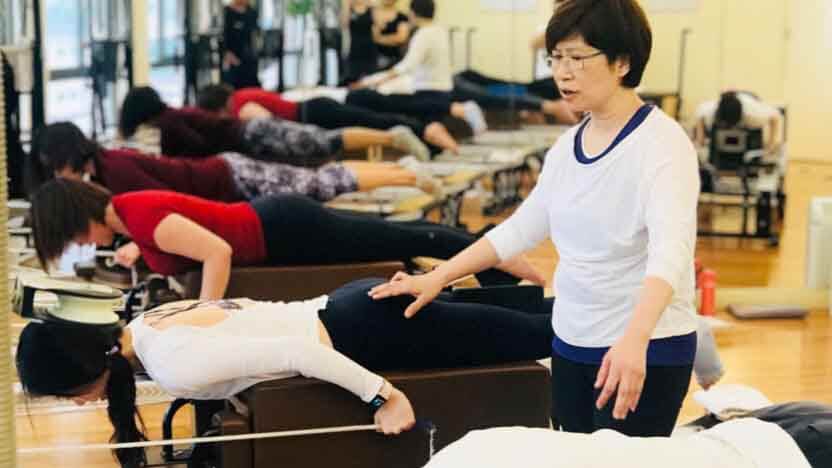 Eighteen years ago, Anita Tang didn't know what Pilates was. She was working as a Country Manager in China for a multinational company. She spent eight months of the year on business trips, flying often to the Middle East and Africa. Back then, Anita was feeling overwhelmed with her body and life.
She was very close to her two young daughters and clearly remembers asking her father, who was already enjoying his life of retirement in Hong Kong, to come to Shanghai to take care them when both she and her husband had to travel for separate business trips. When Anita finally landed after three transits and more than 20 hours in the air, her luggage was lost. She felt despair, she said during a recent interview with Merrithew®.
The vast African prairie helped her feel better. Casting her eyes on the boundless grassland, and the wild animals running on it, she couldn't but think how happy her two daughters, who loved small animals, would be if she had taken them on the trip. She asked herself, "Is what I am pursuing now really what I want?"
The answer was self-explanatory, and at that moment Anita was determined to find her true self and her life.
Founding The Orange Room
After that, Anita went to practice yoga to repair some injuries. She met Pat, who was taking the same class with her. Together, they opened The Orange Room in 2006. The decision was backed by a simple idea: To get fit and escape a demanding corporate job.
They soon found themselves surrounded by people who suffered from the same ailments they had because of the stress of life and work. The Orange Room quickly became a place for experience sharing: Which exercises work? Which exercises didn't seem to work? Out of a myriad of exercises, they searched for the most effective ways of practicing.
Anita admits that in the early days, The Orange Room was not doing very well, but the core concept of sharing exercises that work was planted in the blood of the studio.
With this philosophy in mind, Anita's encounter with Merrithew is only natural. When Anita and Pat were first introduced to STOTT PILATES®, they knew right away that it was what they had been searching for. They traveled to Toronto and Los Angeles respectively in the summer of 2011 to learn about Merrithew's fitness modalities.
"When we discussed whether we wanted to work with Merrithew, we both said 'Yes! This is the training we want!'".
They soon brought STOTT PILATES to China, and in 2015 Anita became one of the first Merrithew Instructors Trainers in China's mainland.
Pilates becoming more and more popular across China
Anita is now promoted to the rank of a Merrithew Lead Instructor Trainer. She also contributed to the translation of Merrithew teaching materials and is a valuable mentor to new instructors.
During the pandemic, foreign Instructor Trainers were not able to enter China to teach, which resulted in a serious shortage of ITs there. Anita, 60, often put aside the classes and work in The Orange Room to travel to other cities to support the local Merrithew Host Training Centers (HTCs), especially the newer ones. Many people were puzzled and asked why she would leave her own venue behind to help other HTCs.
"Because I started teaching earlier, so many owners or operators of those venues are actually my students," Anita says.
In Anita's eyes, it doesn't take much of a reason for a teacher to help her students. Of course, her nearly two decades of experience in the mindful movement industry combined with her insight as a former senior executive of a multinational corporation also tells her that the Chinese market has great potential.
In fact, Anita believes it's so big that there is not even a need for the various Merrithew HTCs to compete with each other. As a matter of fact, the training courses offered by Merrithew HTCs have always been open to the whole country, not limited to one city or one place. So, Anita believes that supporting the development of those HTCs with high potential will increase Merrithew's visibility, share and voice in China's mindful movement industry. Ultimately, this will benefit all training centers, including The Orange Room. That's why she believes that by working together the mindful movement industry in China can grow bigger and stronger.
This grand vision and broad-mindedness are truly impressive. Maybe that's why The Orange Room has such a good reputation in the industry. As the saying goes, the peach and the plum do not speak, yet a path is born beneath them. This is perhaps the most vivid description of the success story of The Orange Room.
Secrets of success: The Orange Room
At the end of the interview, I asked Anita if she had any advice for new Instructors or students who had just started or were going to start their career in the mindful movement industry.
She thought for a while and said, "As a coach or prospective coach, you should always keep reverence in heart. This is the most important point."
In Anita's view, it's not just about respecting the teachers and cherishing the textbooks, but also about keeping reverence for the whole system they are learning – be it STOTT PILATES or the training systems of some other international brands. The students need to know that a knowledge system — developed by so many top professionals, scholars, and researchers of the industry, spanning over a decade or even decades — is bound to be profound and extensive and requires real patience and devotion from the students.
Pilates instructors have to learn anatomy and remember the knowledge of bones and muscles, because Pilates itself is derived from modern rehabilitation medicine. The learning process can be quite boring and academic, even tedious at times. But, with reverence in your heart, Anita believes that Instructors will have a proper expectation and know Pilates is not something that can be done overnight, but takes time to learn and build a solid foundation.
Anita also believes that the learning curve of Pilates is not linear, but a trajectory of exponential growth. The stronger the foundation, the faster the learning because despite all the variations in moves, the essentials are always the same.
The benefits of Merrithew certification
Anita shared with us an interesting story: A student asked her why they couldn't get their STOTT PILATES Certification right after the courses, as this had been a standard practice of many other Pilates training brands.
Anita reflected that a Merrithew STOTT PILATES Intensive Mat-Plus™ or Intensive Reformer program has 40-50 class hours. When the students finish the course, they may feel they have learned everything, but when they get home and put the books aside, they may only remember 50% of the knowledge. Then, after a shower and dinner, they may only remember 30%. When they wake up the next morning, it would be quite impressive if they could still remember 20%. To forget things is natural for humans. "If you have only mastered 20% of the knowledge, how can we give you a certificate?"
This is why The Orange Room insists on hiring instructors who are STOTT PILATES Certified Instructors, and why Anita recommends that all her students must take the certification exam after completing the course.
She believes that taking this exam is like the last piece of the puzzle, the final touch of the entire learning process. Its greatest value is to help students digest and absorb what they have learned while it is still hot and lay a solid foundation for their future career.
While preparing for the exam through written revision and practical exercises, students can bring back the memory of 50-60% of the knowledge. This means that students who have passed the exam and become Merrithew Certified can master about 80% of the knowledge, Anita says.
For students who have spent more than 10,000 yuan (about $2,000-$3,000 CAD) on the training, they may only get less than 20% of the knowledge if they do not take the exam, and all they need is just to go one step further. After taking the exam, they can get four times the benefits plus an internationally recognized Certification. This is an easy choice for everyone to make, Anita says.
While some students seem to fear of Merrithew's certification exams, she says, it's not warranted. They either worry about their English proficiency or think that international certification must be difficult. But the truth is, Merrithew exams are also provided in Chinese, so language is not a problem at all.
As for the difficulty of the exam, Anita says that as the saying goes, nothing is difficult if you are fully prepared.
Another benefit of becoming a STOTT PILATES Certified Instructor is that, as its business grows in the Chinese market, Merrithew is offering more and more training courses in China.
To fill the widening gap of Chinese-speaking Instructor Trainers, Merrithew will actively invite top-rated Certified Instructors to apply for the Instructor Trainer course and become a proud Merrithew Instructor Trainer.
Anita hopes to see more and more excellent, diligent and promising students joining the ranks of Instructor Trainers through their hard work and rigorous learning.
Some people say that Anita's teaching style is "as delicate as a good rain that dives into the night with the wind, and softly moistens everything". This is also the feeling I got from this interview. Anita is fulfilling Merrithew's mission of "help others to grow" with her kindness and responsibility. If I could use only one sentence to conclude, I would say it is truly our honor and the fortune of all the students to have a Lead Instructor Trainer like Anita in Merrithew.
Source: https://www.merrithew.com/blog/post/2022-08-15/certification-crucial-to-success-of-merrithews-first-studio-in-china