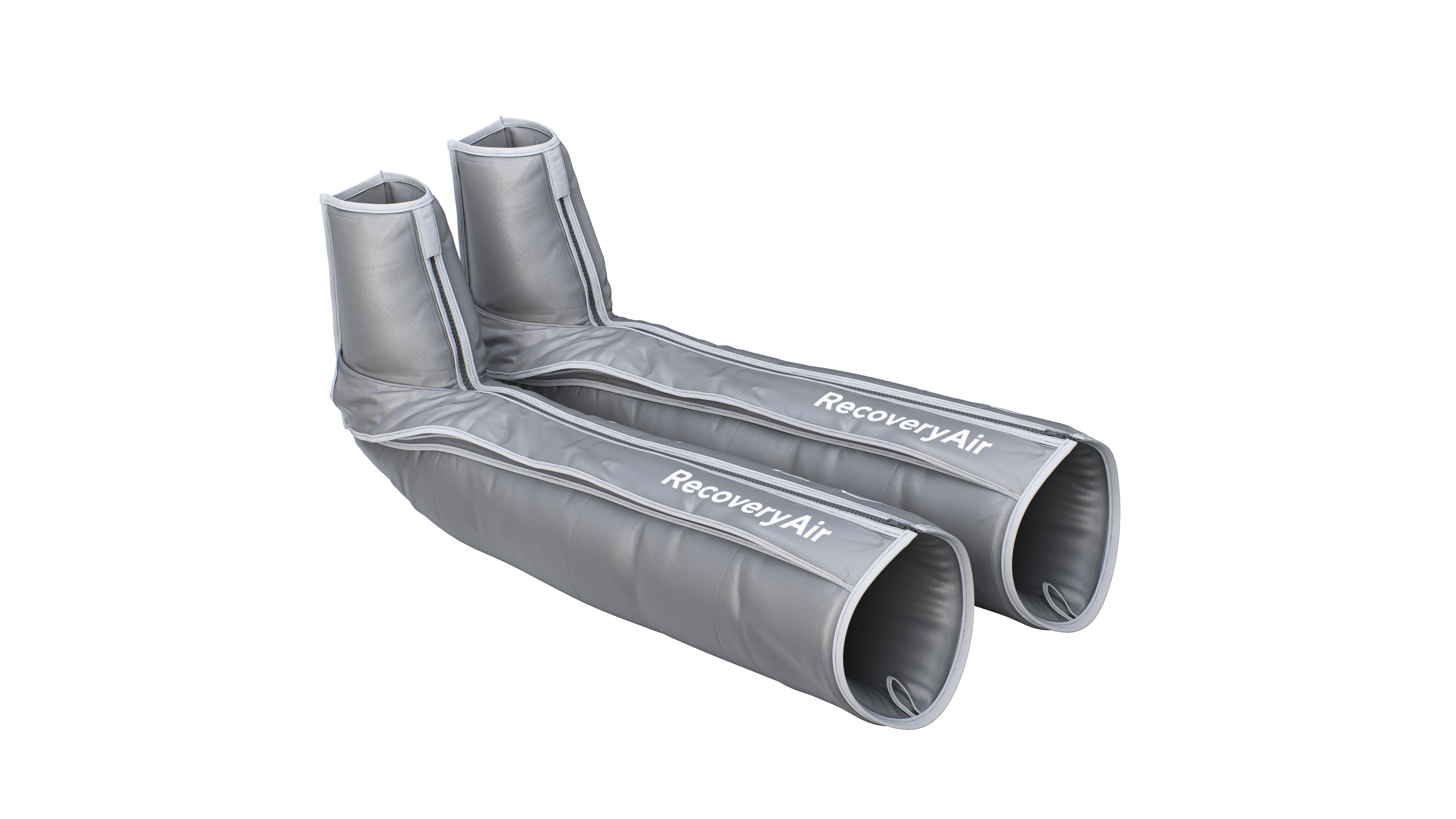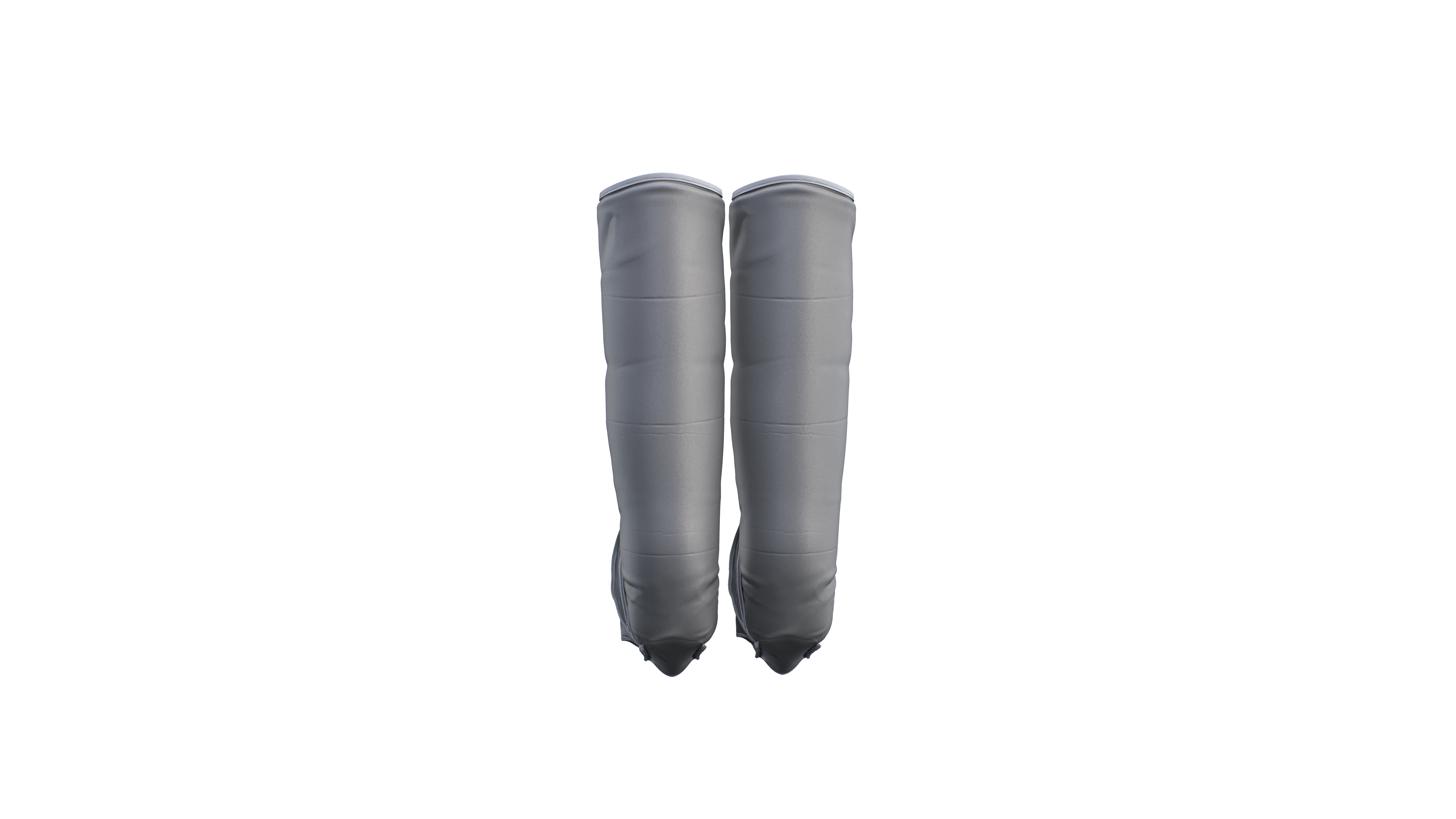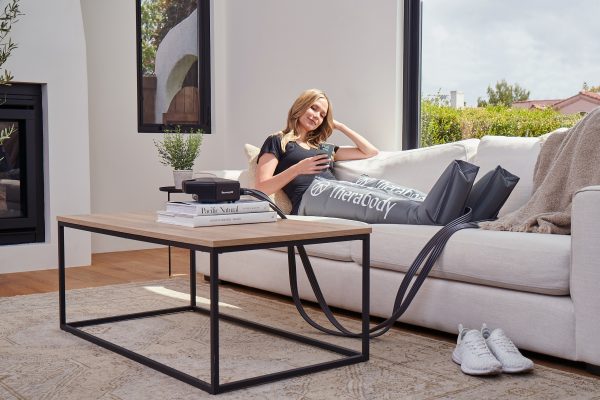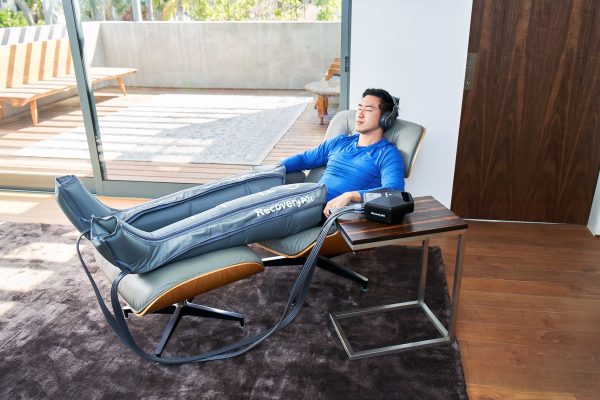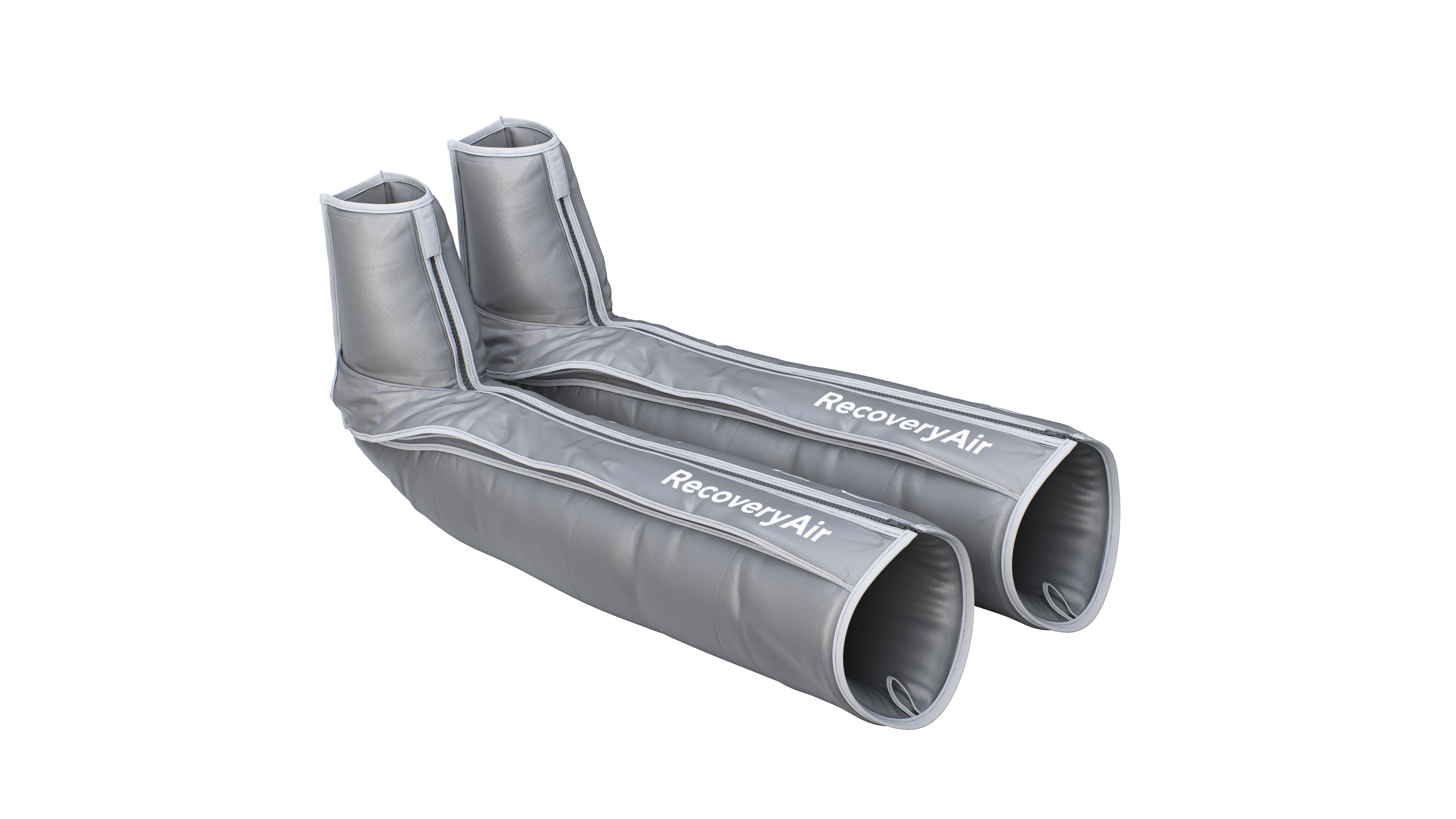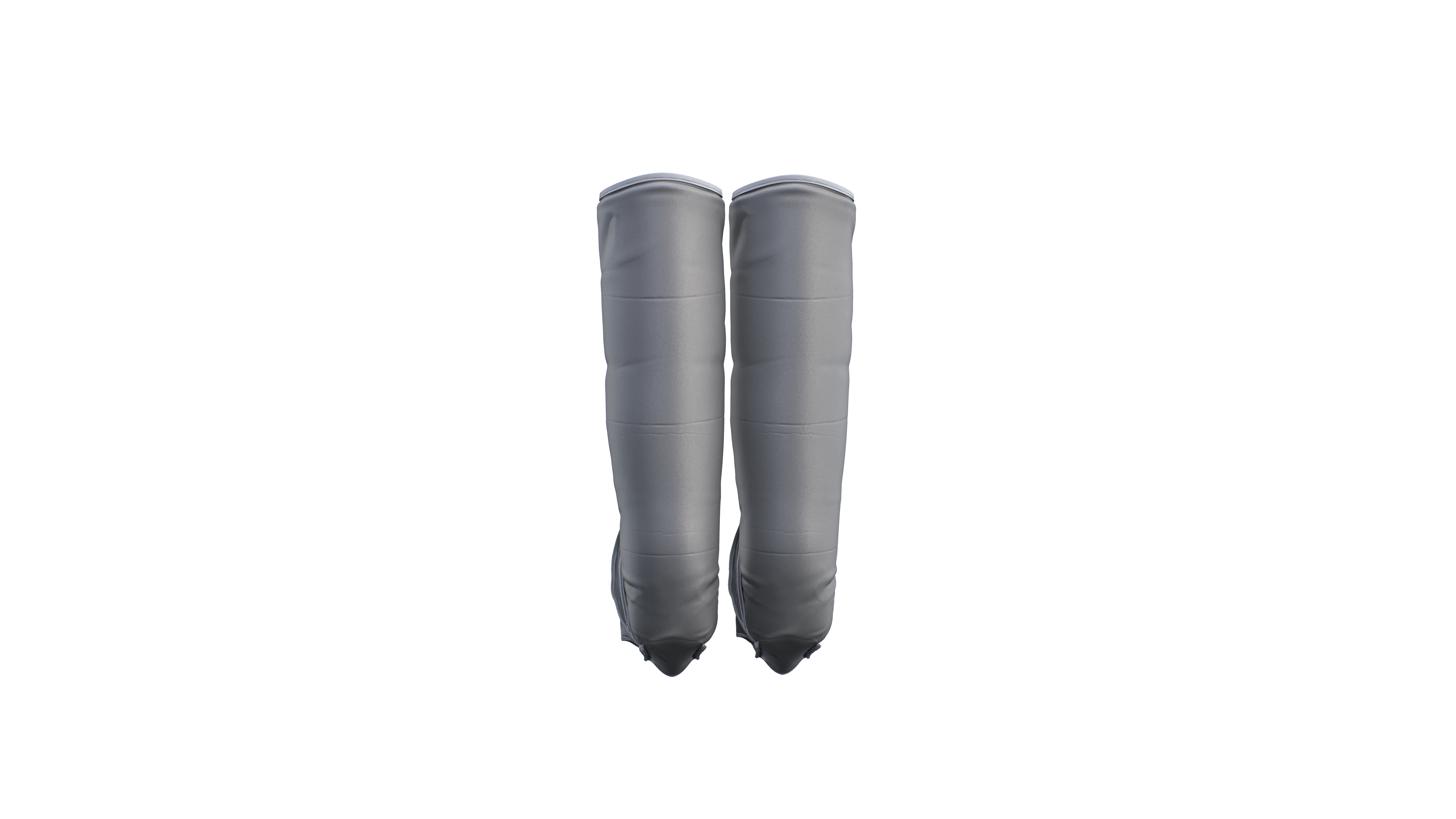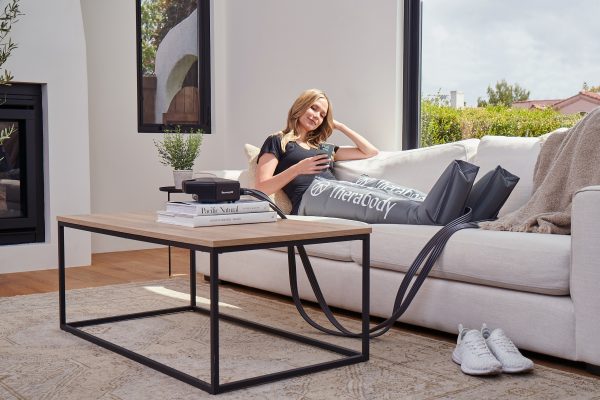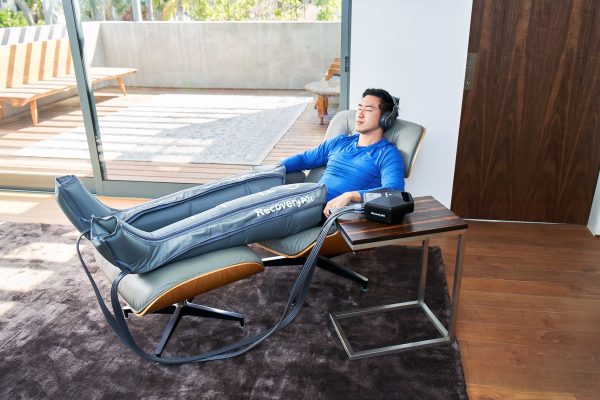 Therabody RecoveryAir
THERABODY. RecoveryAir Compression System. Advanced compression simplified for everybody.
This pneumatic compression system makes it easy for anybody to experience the benefits of our clinically-proven recovery technology.Sit back, relax, and recover faster as each boot compresses the leg to increase circulation and reduce soreness and fatigue. Unlike other devices, RecoveryAir reaches the optimal point for a full and rapid pressure release every 60 seconds–making it 2-3x more efficient than other devices. It's also easy to clean with its 4 internal overlapping chambers. Discover RecoveryAir; Faster, safer, more effective.
Key Features:
Maximize circulation.
Our 'true' negative gradient of pressure travels up the limb from the foot to the thigh in 4internal overlapping chambers. This safely maximizes circulation vs. other designs that can interrupt airflow.
Recover faster.
By detecting a full inflation based on precise pressure,RecoveryAir's high-performance compressor reaches the optimal point for a full and rapid pressure release 2-3x faster than competitors.
Safely control pressure.
In order to prevent dangerous over constriction, our system lets you set your session to precise units of pressure and monitor it according to the size of the limb being treated.
Experience more effective compression.
RecoveryAir gives a fuller, more complete cycle of compression and release in only 60seconds. Flush out metabolic waste more effectively and allow fresh, oxygenated blood to return to the limb faster.
Clean easily and avoid buildup.
Our 4 hidden overlapping chambers avoid the bacteria and moisture that can often build up. This design provides a hygienic, easy-to-clean surface on the interior of the boot.
Ask Us
Features:
Total control of your recovery.
15 cycles in 15 minutes (2-3x faster than average)
Precise pressure control (20-100 mmHg)
4 hygienic internal overlapping chambers
360 minutes of battery life
What's Included:
RecoveryAir Pneumatic Device
Compression Boots
Blocker plug
DC power adaptor
Pneumatic Device:
Specs: 8.2 in (L) x 7.8 in (W) x 3.5 in (H) | 2.2lbs
Precision: Adjustable Range (20-100 mmHg) in increments of 5 mmHg
Gradient Type: Full Negative
Decompression: Full and Rapid Release
Cycle Time: 60 second full flush (2-3x the speed ofcompetitors)
Material: Medical-grade coated fabric
DELIVERY OF FITNESS ACCESSORIES:
Our delivery fees are calculated according to the weight of your order. Your order will be delivered within 5 working days or earlier (excluding Saturday, Sunday & public holidays). You may also opt for a self-pickup at checkout.
Orders under 20kg (0.1kg – 19kg): $10
Orders under 30kg (20 – 29kg): $20
Orders above 30kg: $30
If you are purchasing a product that is on backorder, kindly drop us an email (enquiries@f1-recreation.com.sg) to check on the delivery status.
If you opt for a self-pickup, kindly visit our showroom @ 20 Sin Ming Lane #01-57, Midview City S(573968) on Mon – Fri (2 pm to 5 pm).
DELIVERY OF FITNESS EQUIPMENT:
Prices are inclusive of delivery & installation (not for leasing or rental of equipment).
Additional charges will apply based on the difficulty of access. You can select these charges when you are at the checkout page.
Once your order is successful, our team will be in touch to coordinate the delivery of your equipment.