Beautiful Studios on a Beach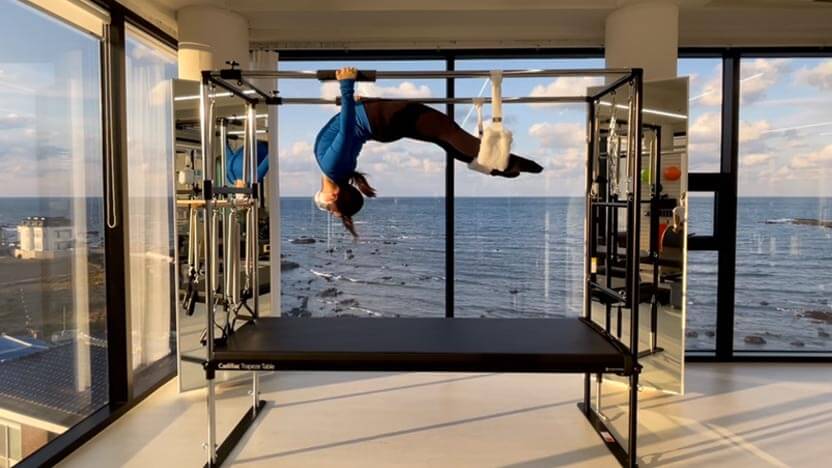 Among the many notable Pilates studios in Merrithew's global community those nestled near the shores of an ocean, lake or river offer a special appeal. Join us, as we celebrate some of the most eye-catching spaces in the Merrithew® global community that overlook an expanse of water.
Australia
Kylie McGuiggan was so persuaded of the benefits of Pilates that she didn't hesitate to open a studio on Australia's Gold Coast, already saturated with fitness options such as traditional gyms, yoga centers, and cycling groups.
Pilates on Point, which was the first Reformer studio in the Palm Beach suburb, is thriving. It's so close to Tallebudgera Beach that it's common for Kylie to stop for an ocean swim on her way home. The region is often likened to Miami Beach in Florida, US because of its postcard-perfect white sandy beaches and bright blue water.
If you're unable to visit Pilates on Point yourself, you may find mention of it online. Kylie was recently featured on national TV, guiding celebrities through a Reformer class on the beach.
"I had always imagined having the Reformers on the beach," she said in a recent Merrithew interview. "This was the perfect opportunity."
While you're in Queensland, don't forget to check out Pilates North, which is one of our training centers near the Brays Bay Reserve – located on the banks of the Parramatta River.
China
Lila Yoga & Pilates, one of Merrithew's Host Training Centers in China, has a large studio space of more than 600 square meters, with warm wooden floors and floor-to-ceiling windows in the classroom. The sunlight streaming in makes the classroom cozy and bright.
Although it is in the city center, the view of the sea and sunsets makes it feel like you're miles away. Not to mention the feeling of floating among the clouds around you.
The selection of furniture is unique, from material to color matching, specifically chosen for customers to practice comfortably and happily.
The Lila Yoga & Pilates website explains further: "In everyone's heart there is a child who is eager to play happily. We're not just running a Pilates studio; we want to create a magical space for our clients. We hope that in [our] magical space called Lila, everyone who comes here can find the children in their hearts and play happily here."
Dubai
Dubai has a robust fitness culture, including many world-class studios and instructors. There are two unique Pilates studios in the country that are worth checking out should you find yourself on the shores of the United Arab Emirates.
Real Pilates
You'll find Real Pilates in two locations, Jumeirah and Jumeirah Lake Towers. Both these locations are Licensed Training Centers where people can opt for Merrithew Education Programs.
Real Pilates is a sanctuary of strength and serenity in the heart of the city where you can de-stress, restore, reconnect and grow, the space is designed to give you that feeling you experience when walking into a tranquil Zen garden in Kyoto. In addition to a beautiful locale, its founders underline how its team complements the atmosphere:
"Real Pilates is powered and driven by inspirational people who are dedicated to making a difference in your lives. We're holistic to the core, open, honest, calm, caring, and highly accessible."
POSTURE.
POSTURE. in Palm Jumeirah, is nestled between the calm turquoise waters of the Arabian Gulf and majestic Dubai skyline. It was founded by Elle Hutchinson whose love of Pilates and fashion fueled her vision to create a positive and inviting studio space. It is modern and minimalistic – designed to encourage a sense of healing. Described by GQ Magazine as one of the 3 Best Pilates Studios for Men in Dubai, its reformer classes are loved by fashion and fitness enthusiasts alike. The Merrithew Reformers perfectly complement the Balearic-style aesthetic of the studio.
POSTURE's mission is to create a mind-body-soul experience for each client, believing that doing so starts with one's posture.
"POSTURE. is nothing but an open door for anyone to come get fit and most importantly feel healthy." As Grazia Magazine puts it: "It'll simply melt your stress away."
Monaco
Thirty Nine Monte Carlo is a sports club on a seafront boulevard near Monaco's main beach, Larvotto. It's considered a home away from home for many of the world's leading sports stars, including tennis champions, professional cyclists, and Formula 1 drivers. The club, founded by ex-Scottish rugby player and Monaco resident, Ross Beattie, doubles as a hub where those in the principality can also access nutrition programs and spa treatments. Their offerings include private and semi-private Pilates sessions, all on Merrithew Reformers of course – only the Rolls Royce of Reformers here!
As described on their site: "With a team of experts and the most sophisticated training facility in Monaco and Southern Europe, we can help you move, look and feel better."
South Korea
Lee Ji-Won Pilates, a Merrithew Host Training Center has become so popular that it has inspired the growth of the Pilates industry throughout the island.
Known as the 'Hawaii of South Korea', Jeju is a premier vacation destination for Seoul residents. The team at Lee Ji-Won Pilates has been pleased to train many who visit the island and dedicate themselves to improving their fitness while taking time off from their jobs. Jeju, which is also known for its green tea production, welcomed many local travelers during the pandemic who were keen on working towards their fitness.
Located on the 3rd floor of Hagui Tucson Place, Lee-Ji Won Pilates is a pretty and inspiring studio where you can relax and concentrate on enjoying your Pilates practice.
Thailand
Thailand's premiere wellness fitness resort, Absolute Sanctuary is located on the North Eastern side of Koh Samui, Thailand about a five-minute drive from Chaweng and Cheong Mon beaches. This beautiful space is one of among 12 owned and operated throughout the Thailand by Absolute Group. Beach access complements the resort's beautiful pools and lush gardens. As described on their website, guests also enjoy instruction from world-class fitness experts:
"With a dream team of the best instructors, therapists, and chefs, our wellness programs remain cutting edge, constantly evolving to achieve results like none other."
At Absolute Sanctuary, Pilates is a feature offering daily reformer classes in their Merrithew-equipped studio. If you're looking for a place to reconnect with yourself, recharge, revitalize and re-energize, this might be the perfect place for you!
Vietnam
While Paragate's first space opened to Pilates in May 2018, its second lakeside studio opened in March 2021. Merrithew Host Training Center – Paragate Yoga & Pilates is a spacious and airy, dedicated Pilates space overlooking the West Lake in Hanoi, Vietnam.
It was originally a yoga studio and evolved into a Pilates studio that now aims to train the world's top international Pilates instructors in the STOTT PILATES® Method.
Canada
Located near the bustling marine community of French Creek, BC – Awakened Pilates houses STOTT PILATES certified instructors to help students move forward in their mind-body alignment journey.
"You will never feel better than when you're doing the things that make your heart sing!" says the studio owner, Danica when she told Merrithew how passionate she is about her work. She continued "We aim to help our clients feel stronger after every class they take and make them feel like they can take on whatever the day holds."
The studio itself, resonates with this heart-warming statement. Awakened Pilates has a minimalistic bohemian-inspired decor, lots of natural light, and the essence of calmness- which is one of the most essential elements of the mindful movement practice. Whether it is through physical fitness or holistic well-being, their instructors are dedicated to helping students find out what motivates them and give meaning to their lives.
Awareness flows freely at Awakened Pilates because they know how important self-discovery can be for living an active lifestyle – which means no matter who walks through those doors, Danica and her team makes sure that everyone grows dynamically in their Pilates practice.
We highly recommend checking out Inspine Therapy, which is a Merrithew Host Training Center that is just a 3-minute drive away from the beautiful Rocky Point Park which is a tourist favorite kayaking destination in British Columbia.
Source: https://www.merrithew.com/blog/post/2022-08-30/beautiful-studios-on-a-beach