Beautiful Pilates studios for easing back into fitness after a break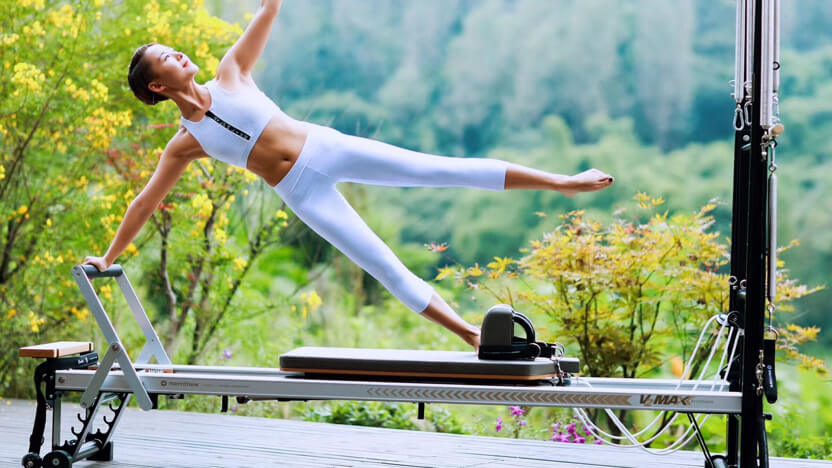 Whether it was through instructing students online or adapting classes for online or an outdoor experience, Pilates studios around the world have dealt remarkably well with limitations and restrictions over the last two years.
While these efforts ensured no interruption to the fitness, rehabilitation and mind-body pursuits of many clients, the comfortable surroundings of a beautiful Pilates studio still has incredible power to inspire students.
As more and more spaces open up again for indoor learning, we celebrate some of the most beautiful Pilates studios in the Merrithew® global community.
ZEN | Yoga•Pilates (The Ring) in Chongqing, China
Recently featured on the Merrithew blog after winning China's Most Beautiful Yoga Studio competition, this studio is one of three that comprise ZEN Yoga Pilates. Located in a unique shopping mall in Chongqing, ZEN | Yoga•Pilates (The Ring) has seven indoor classrooms with large private terraces. However, instructors often move their Merrithew equipment into a large-scale indoor botanical garden where clients can practice Pilates amidst 70,000 ecological specimens, allowing the body and mind to be engaged by nature.
Pilates Hub Weybridge in Weybridge, U.K.
Sara Deeley's charming studio space in Weybridge is located a mere 20 minutes from London. Its brightly lit interior combined with the brilliant use of Merrithew SPX® Max Reformers with Vertical Stands creates a welcoming and spacious area. After some initial hiccups opening just as restrictions and lockdowns were being enacted in England, Pilates Hub Weybridge has been moving full steam ahead with three to seven classes scheduled for each weekday.
Pilates Complete in Gothenburg, Sweden
An airy, white space with ample windows and a private terrace overlooking the lush Skansberget, Pilates Complete is Gothenburg's first Pilates studio. Owners and STOTT PILATES® Instructors Jasmin Salhi and Linda Ahlgren opened this studio in 2010 in a refurbished corset factory and turned the bright, clean environment into a true reflection of their passion for both mind-body exercise and the arts. Each month, they exhibit a new artist in the studio with works ranging from visual arts to sounds and music.
Forma Pilates in Los Angeles, U.S.A.
Not all Pilates studios need a lot of space to be beautiful. Liana Levi's Forma Pilates in Los Angeles started as a home studio before becoming a flourishing business catering to exclusive clientele on a referral basis. What Forma may lack in size, it more than makes up for with its intimate atmosphere, appreciated by the studio's high-profile celebrity clients.
Pilates The Fit in Seoul, Republic of Korea
Established in 2011, The Fit has expanded their studio space three times over the past decade in response to the ever-increasing demand for Pilates in the area. Currently they occupy a 300-square-meter space that serves as a client studio employing more than 22 Instructors. In 2016, The Fit built a massive education facility on the 26th floor of its building to host STOTT PILATES training. Their space incorporates finishes like polished hardwood floors, natural stone and windows offering cityscape views.
ZES Boutique Studio in Maastricht, Netherlands
Petra Top made the most out of COVID-19 restrictions in the Dutch province of Limburg. By spacing out her Merrithew SPX Max Reformers to comply with local regulations, Top turned her studio into a private setting. She predicts that ZES will continue spacing out its equipment because clients have responded so well to the increased intimacy of the atmosphere. The arched mirrors, large windows and well-lit, open space make for the perfect Pilates setting.
THE HOUSE in Novi Sad, Serbia
THE HOUSE boasts large group-fitness training rooms as well as a fully-stocked Merrithew equipment space with Reformers, Cadillacs and Stability Chairs™. A massive second floor room overlooks big trees and features wall-mounted Spring Walls, polished ceramic floors and massive mirrors. The studio is a hot spot for the city's fitness enthusiasts, specializing in athletic conditioning and rehabilitation programs.
Core Studio in Monroe, N.C.
Owner and STOTT PILATES Instructor Jill Henson says her mission with Core Studio in North Carolina was to "create a comfortable and non-competitive atmosphere that offers high-quality instruction in Pilates, yoga and lifestyle management." With original exposed brick and an uncovered brick archway that divides the studio space, Core has a timeless yet on-trend feel to it that will always be in fashion. It's no surprise the space has been showcased in publications like SHAPE.
Source: https://www.merrithew.com/blog/post/2022-04-25/beautiful-pilates-studios-for-easing-back-into-fitness-after-a-break